Silk Screen Printer
The drum body silk screen printer allows single color printing of one, two or three bands in one operation.
A star wheel type down-ender at the entrance receives the drums in a vertical position and turns the drum in a horizontal position to feed to the body silk screen printing machine. A 10-station servo driven index conveyor guarantees a fast and accurate transport of the drum from station to station.
The first station is an orientation station where the drum can be orientated on either the weld seam or the 2″ bung hole. The orientation of the side seam has the advantage that the machine will avoid printing over the side seam.
This body silk screen printing station contains a servo driven lift system that is adjustable to both the length and the diameter of the drum. The lift unit lifts the drum to the moving silk screen frame. The silk screen frame is servo driven allowing the operator to set the screen length and speed of the printing on the control panel.
As an option the machine can be designed with a fast silk screen frame change-over system. With this system the squeegees are mounted on a mobile structure that can be moved upwards allowing the frame to move under the squeegees.
A servo driven up-ender is integrated in the silk screen printer and takes the drum directly out of the last index position. This to avoid the drum rolling sideways and creating any damages to the wet paint. The up-ender positions the drum in a vertical position on a chain conveyor and feeds the drum towards the parallel roller conveyor.
Safety guards in combination with light curtains makes this machine a safe environment where filling the screen frame with paint is still possible for the operator.
Silk Screen Body Printing of Conical Drums
Similar to the standard silk screen printing machine, Merco Machines has designed a body printing machine for conical drums. This machine has no index conveyor but a shuttle transport. The servo driven lift system is divided in two separate units. One unit on the left and one on the right. This makes it possible to tilt the drum in an angle for perfect printing of the conical drums.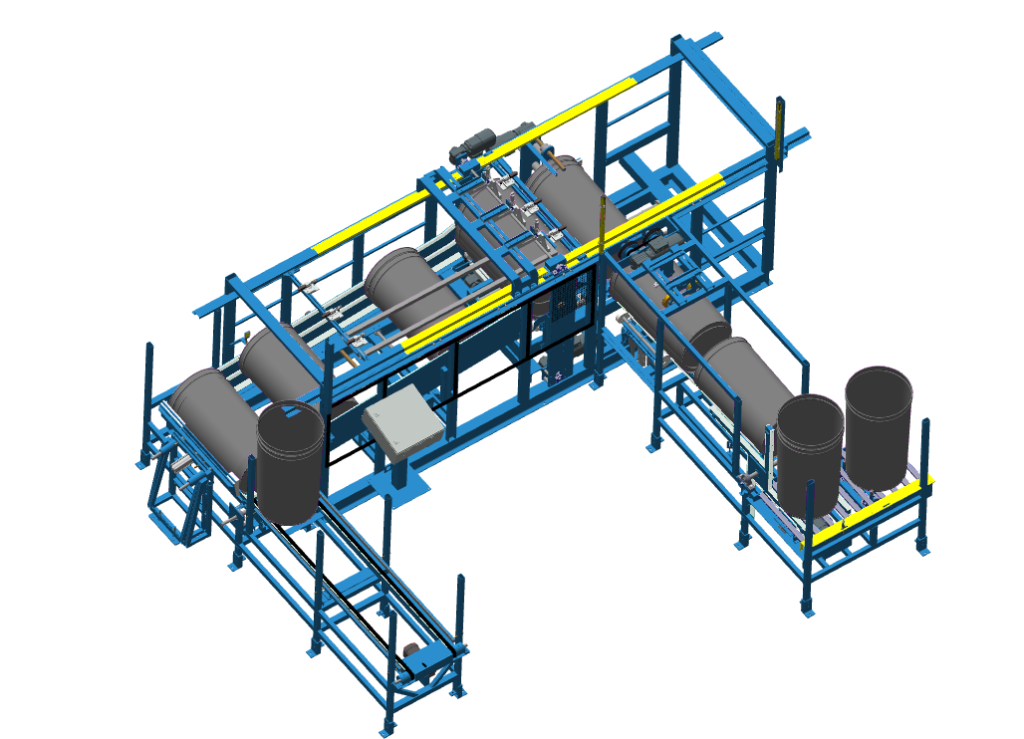 ---